All Falling Into Place
Everything You Need in
Chess Sets & Supplies!
Good Affordable Chess Equipment:
The U.S. Chess Federation's Official
Rules of Chess

New 6th Edition for 2014!

A "Must" for every Tournament Director and serious chess player, this comprehensive book features all the latest rules and guidelines governing chess...

Knit Chess Hats!

Rook Knit Hats - Now in
Even More Awesome Colors!

Make sure your little chess player stays warm & stylin'...

Basic Regulation
Chess Set

(Pieces)

Just Right for Schools, Clubs or Tournament Play. Nice Starter Set!
- Unbeatable Pricing!

Quality plastic, with 3.75 inch king.

Available in single-weighted or triple-weighted...

(Vinyl Boards Sold Separately)

Chess Medals

Chess Awards & Tournament Medals of Various Designs!

Round, Square, and Diamond-shaped!

A nice variety, in "Gold", "Silver" and "Bronze" versions...

Folding Magnetic Travel Sets: in 2 Sizes

Available at Great Low Prices!

Portable, hard-sided, Travel Chess Sets that meet all the best criteria:

Strong magnets
Bigger pieces
A 'snap-closing' board

Cool Magnets!

NEW from Cajun Chess:
Stylish and witty refrigerator / locker / dishwasher magnets

"Check, Please."
Chess King silhouette
"Clean / Dirty"

Sweet and Exclusive...

Chess Tee Shirts for Everyone!

Unique chess t-shirts with original art and sayings, for boys and girls!...

Great for beginners and scholastic chess players - as well as any chess enthusiast...

Many sizes available...

What You Need to Score!

Chess Scorebooks, basic to deluxe...
We've got 'em!

Scholastic Player's 50-Game
Chess IQ 80-Game ScoreBook
Hard-Cover 100-Game Scorebooks
Deluxe Tournament 100-Games
and more...

Savings are In The Bag!

Chess Bags and Totes:
in Great Styles, at Great Prices
---
Including:
Basic Club Chess Set Combo,
Deluxe Tournament Combos,
Club Series Chess Set
...+ More!
All you need in Chess Demo Boards + Accessories
---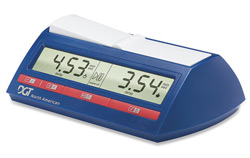 Easy to Use Digital Game Timer for All Chess Players - FIDE Approved!

Shop ALL Chess Clocks!
---
Cool chess t-shirts in all sizes, starting at just $12.99 each -- OR available for less, with sweet 'Quantity Discounts' too!
---
---