Tournaments

-------------------------------
2015 LA SCHOLASTIC CHAMPIONSHIPS:
-------------------------------
New Products Coming Soon at Cajun Chess!
Something for Everyone . . . Check Back Soon ! ! ! ! !
NOW BACK IN STOCK . . .
Analysis Sets! Chronos Clocks! Demo Board Tripods! Checkbook Magnetic Sets! The Chess Tactics Workbook!
Affordable Chess Supplies & Products
Warm Knit Chess Hats!

Rook Knit Caps -
in Awesome Colors for Everyone!

Make sure your little chess player stays warm & stylin'...

Perfect Accessories

for the Chess Enthusiast!

The Coach's Chess Bag

Coach's Tournament Tote!

A Chic-looking, roomy, strong, light-weight gear bag - holds boards, pieces, clocks, scorebooks, pencils + whatever else a chess coach may need for the tournament.

Folding Magnetic Travel Sets: in 2 Sizes

Available at Great Low Prices!

Portable, hard-sided, Travel Chess Sets that meet all the best criteria:

Strong magnets
Bigger pieces
A 'snap-closing' board

Unique Chess Jewelry

A Cajun Chess Exclusive!

Beautiful Hand-crafted, Chess-themed Jewelry by Julissa includes:

Necklaces (girl's and boy's)
Charm Bracelets (pictured)
Chess Piece Earrings
...and more

"Classic Series" Wood Chess Sets

Well-crafted Wooden Tournament Sets, at a Decent Price!

A House of Staunton original, offered
from Cajun Chess!
Five different sizes available
Various wood-type/color choices

Some Sweet Chess Tees

Exclusive Shirts for Everyone!

Unique chess t-shirts with original art and sayings, for boys and girls.

Cool chess t-shirts in all sizes, starting at just $12.99 each -- OR available for less, with sweet 'Quantity Discounts' too!
---
Including:
Basic Club Chess Set Combo,
Deluxe Tournament Combos,
Club Series Chess Set
...+ More!
All you need in Chess Demo Boards + Accessories
---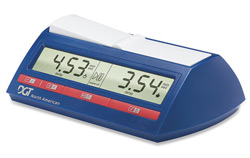 Easy to Use Digital Game Timer for All Chess Players - FIDE Approved!

Shop ALL Chess Clocks!
---
---
---