Copious Gift Ideas
& Plenty of Savings
for the Season!
Good Affordable Chess Gift Ideas:
The "Cadillac" is BACK!!

Cool CHRONOS Chess Clocks!

Ultimate Durable and Reliable game timer
Fine-tuned Accuracy & easy to program
Choice of original Beige or Black
Available with Push-Buttons or Touch-Sensor Pads

Knit Chess Hats!

Rook Knit Hats - Now in
Even More Awesome Colors!

Make sure your little chess player stays warm & stylin'...

The Coach's Chess Bag

Coach's Tournament Tote!

A Chic-looking, roomy, strong, light-weight gear bag - holds boards, pieces, clocks, scorebooks, pencils + whatever else a chess coach may need for the tournament.

Folding Magnetic Travel Sets: in 2 Sizes

Available at Great Low Prices!

Portable, hard-sided, Travel Chess Sets that meet all the best criteria:

Strong magnets
Bigger pieces
A 'snap-closing' board

Super Mario Chess Set

"HEY! It'sa me... Mario!"

Super-Cool Collector's Edition - featuring the beloved Super Mario characters in classic poses - taking the recurring battle of Mario, Luigi, & friends against King Koopa & his minions to a whole new world of the 64 squares.

"Classic Series" Wood Chess Sets

Well-crafted Wooden Tournament Sets, at a Decent Price!

A House of Staunton original, offered
from Cajun Chess!
Five different sizes available
Various wood-type/color choices

"Night Hunter XTREME" Glow-in-the-Dark RC Helicopter

Wireless Rechargeable Micro Helicopter with Built in LED Lights!

Very Cool... and Just $22.95!
---
Including:
Basic Club Chess Set Combo,
Deluxe Tournament Combos,
Club Series Chess Set
...+ More!
All you need in Chess Demo Boards + Accessories
---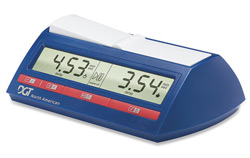 Easy to Use Digital Game Timer for All Chess Players - FIDE Approved!

Shop ALL Chess Clocks!
---
Cool chess t-shirts in all sizes, starting at just $12.99 each -- OR available for less, with sweet 'Quantity Discounts' too!
---
---